Tools Closeout
INLAND INSTA-HEAT IRON
The Inland InstaHeat lets you solder as fast as you want for as long as you want! There is no stopping and waiting for this iron to re-heat!

* Heats up to 850° F. Ceramic Core.
* Ceramic core extends into the tip for more efficient & consistent heating.
* More consistent tip temperature while soldering than irons with tip controlled temperature; not hot and cold cycling.
* Ceramic core out lasts conventional wound wire heater irons.
* Reaches soldering temperature in under a minute.
* Includes 1/4" chisel style tip with an optional 1/8" chisel style tip available.
* One year warranty.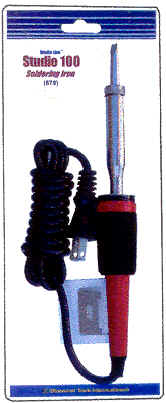 Replacement Tip for Diamond Tech International
Studio 100 Soldering Iron