Piper's Pattern Paper

Adhesive pattern paper that allows you to cut your pieces to the pattern with ease!

Adhesive pattern paper provides much greater accuracy in cutting glass because the thickness of the paper gives you a slightly raised edge to score against.

Leaving the paper on while you grind will speed the process even more because you will know exactly how find to grind down.

Unlike using a marker, the paper won't rinse away while you grind.

No tape or glue or spray adhesive mess to deal with. No "fitting" - you get a PERFECT fit, every time!!



Click here to learn more about Piper's Pattern Paper!


SilkeMat Fiber Fusing Sheets

SilkeMat is a NON-CARCINOGENIC refractory fiber blanket that can be cut, molded, rigidized and formed for use in a kiln to slump glass. It can be used with and without rigidizing. Although a high-grade boron nitride separator like ZYP could be used for art glass firings, it is not necessary. There is no "shot" in this product and most firings are clean, leaving only the texture of the fiber on the glass. SilkeMat is a Non-Carcinogenic material that can be cut and handled with minimal concern.

Click here to learn more about SilkeMat!

Techniglass MO-RE Boron Nitride Mold Release

The premier boron nitride mold release made especially for the fusing glass enthusiast and professional.

Radically Different
Glass is the most difficult application to release, that's why Techniglass has formulated MO-RE specifically for the art glass industry. With a non-flammable solvent base, MO-RE produces an effortless release for a wide array of molds.

Reduced Prep Time
Application and cleanup are simple compared to brush-on primers; MO-RE sprays on quick and evenly with self-leveling capabilities. No exposed mold or mold sticking to glass piece.

Flawless Release
Eliminate post-fire work with MO-RE's unique composition, allowing glass to move freely during the firing process. When boron nitride release spray is applied evenly, each mold will release clean with no spiked edges or film left on glass. No need to grind off rough edges!

Reduce Cost per Application
MO-RE can be used sparingly, due to its self-leveling component one will never need to worry of an uneven surface or bare mold. Only a light coating is necessary – by reducing the amount applied to each mold, less mold release is used during the application process.

Sold in 12 oz and 8 oz cans. Note: This item cannot be shipped via USPS!


Pizzas made by Jessica Jones. Click to enlarge.

Finley Fusible Handy Hanger

Tired of making your own hangers to put into your fused pieces? Made from high-temp nickel-chromium metal and able to withstand 2000 degree heat, these hangers will secure your pieces with confidence. The unique shape will help them to stay put between the fused glass pieces. They will not lose shape or color during firing and can withstand multiple firings. 8 hangers per bag.

| | |
| --- | --- |
| Finley | Ellie |

Glass Patterns Quarterly Summer 2019

116 pages of the newest books, tools and products, with projects for every skill level! Includes a 16 page pull-out pattern section. This is the only magazine exclusively devoted to the Stained Glass hobbyist and craftsperson.

LAYOUT FRAMES

Have you ever struggled to make sure your circular piece is a true circle, or your oval is the exact dimensions you wanted? Layout Frames will ensure you never have to struggle to maintain the outside shape again! Attach the Layout Frame to a surface (ex. drywall) using push pins, build your project within the frame and it will hold it together through soldering. Each Layout Frame shape is precision-cut from durable material to make sure your projects turn out exactly the way you want them to every time. Comes in circular, octagon and oval.

Click any of the pictures to go to the Layout Frame page


HAKKO SOLDERING IRON MAT

Keep your soldering area clean and tidy with Hakko's new soldering iron mat. It is a 16x24 rollable mat that is resistant to burns and solder blobs wipe off easily! You no longer need to look at a scorched, solder speckled table top anymore!

Wardell Footed Molds

The Binasphere - 2 molds in 1!


Spherical-shaped Bowl

B235 Starfire Bundle

B300 Fluted Circle Drop-Thru Bundle

Visit our Wardell Fusing Molds page
to learn more about Wardell Fusing Molds!

B310 Circle-Square Drop-Thru Bundle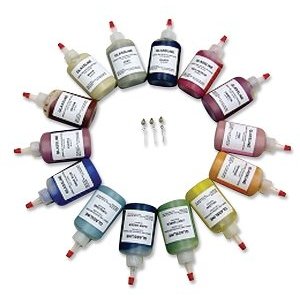 Glassline Fusible Paint Kits
Easily Add Intricate Designs to Glass! Glassline pens are a lining and shading material for glass. They are easy to use and can be applied between multiple layers of glass or on the top surface for a complex dimensional look. Glassline pens can also be thinned with water or sprayed to achieve subtle shading variations. Glassline is compatible with both COE 90 and System 96 glass. For best results, tack fuse paint onto individual sheets of glass before stacking your full fuse. Glassline pens are lead free and food safe.
Click here to see all of the kits
EASY CUT LEAD CUTTER

Cuts lead came at perfect 30º, 45º, 60º, and 90º angles quickly and efficiently with minimal waste. Uses inexpensive standard single-edge razor blades. 1 Year manufacturer warranty - excludes blades.




TOOL CADDY

Hard plastic tool caddy with multiple sized storage compartments for a variety of hand tools. Foil storage compartments with tear blade; holds 4 rolls of foil upright to reduce tangled spools. Large deep compartment for solder and flux with detachable flux brush and holder for mess-free storage. Heavy copper plated iron coiled cage prevents hot soldering iron from touching the work surface and protects hands and nearby objects. Convenient sponge and sponge-well allows for quick and easy cleaning of soldering iron tip during use. Handles on both sides of caddy makes for easy transportation.



EASY CUT LENS CUTTER

Cuts precise circles from 3/8" to 5" diameter. Comes with 3-wheel cutting head for long life. Excellent for cutting lots of sun-catchers, holiday ornaments and medallions. Small and easy to store - even in small workshops. Designed for right or left handed use. Replacement cutting wheels available.



Creator's Bottle Neck Cutter
NEW amazing way to cut the neck of bottles from the makers of Cutter's Mate!
| | | | |
| --- | --- | --- | --- |
| | | | Makes awesome guitar neck slides! |
Introducing a high-tech, durable bottle neck cutter that is simple to use and can smoothly cut around the neck of round bottles from Creator's Stained Glass. Constructed from a polycarbonate plastic with a carbide cutting wheel. Simply set the holding plug in the bottle opening, adjust the height of the cutting wheel by turning the wheel, hold the sides of the cutter firmly and then simply spin the bottle while applying pressure. It's that easy! 6.5" high, 3" wide at base, and 1.5" deep. Adjustable from .5" to 4.5"" in height. Comes with a carbide cutting head.


Uncat is short for Uncategorized. These are non-standard mixes, experimental, or just unique colors created either deliberately or by happenstance during the production process. They result when there are leftover components from a standard run or when they are experimenting with new colors. These are some of Uroboros' most spectacular glass sheets, and they are all one-of-a-kind. Many artists look forward to a new shipment of Uncats arriving since they can really broaden their palette.
Go to the Uroboros Uncat Page!

Go to the Uroboros Uncat System 96 Page!
CREATOR'S BOTTLE CUTTER
Love to make bottle art, but haven't found the right bottle cutter? The makers of Cutter's Mate have the answer. Introducing a high-tech, durable bot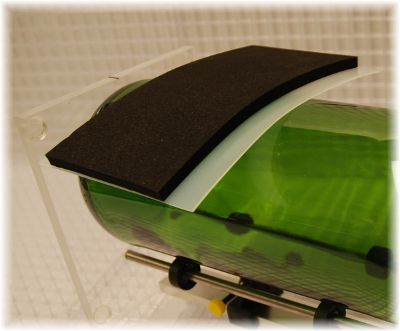 tle cutter that is simple to use and makes exact cuts around the bottle. Constructed from a polycarbonate plastic, durable stainless steel slide bars, enclosed ball bearing rollers (to keep out glass slivers), and is the only bottle cutter with a carbide cutting wheel. Simply set the cutting wheel to exact spot on the attached ruler, tighten the wheel to hold the cutter in place, then simply spin the bottle on the rollers while applying pressure. It's that easy!
As a special bonus, also included is a Palm Protector that allows the bottle to spin easily while keeping your hands safe while cutting (see picture on the right).
12" long, 6" high, and 5" wide. Instructions
| | | |
| --- | --- | --- |
| Creator's Bottle Cutter Reg. $120.95 | Replacement Cutting Head Reg. $18.95 | Bottle Score O Rings ( 1 pair ) |
| Cutter Plus Replacement Head Bundle | Bottle Leveler - Levels out odd shaped bottles | |
See the Creator's Bottle Cutter in Action!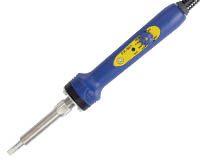 HAKKO FX-601 SOLDERING IRON
The Hakko FX-601 is the next generation of adjustable temp-controlled soldering irons from Hakko. This small, lightweight iron will outperform the most popular 100W soldering irons on the market today. Ideal for all your stained glass applications, from small decorative projects to windows.
Ceramic heating element for longer service life than normal conventional nichrome-iron (NiCr) element.
Adjustable electronic temperature control, no rheostat needed..
10 temperature settings between 464°-1004°.
Alloy-coated iron tips ensure long-lasting protection from corrosion.
Super Fast thermal recovery. Faster than the 556SE and 5x faster than a 456
Extremely Lightweight, well-balanced with a slender, ergonomic handle.
An excellent iron for large stained glass panels and lead came.
Energy efficient 63 watts
Extra long, 3-wire 6 foot power cord.
UL/CSA Approved
T19-D5 standard tip (~3/16")
| | |
| --- | --- |
| Hakko FX-601 Soldering Iron | Replacement Chisel Tip for 601 5mm (~3/16") |
| Replacement Chisel Tip for 601 2.4mm | Replacement Chisel Tip for 601 6.5mm (1/4") |

HAKKO BENCH TOP SMOKE ABSORBER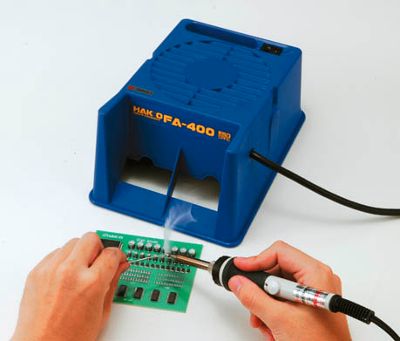 Breathe easy with the Hakko FA-400 bench top smoke absorber. The FA-400 removes soldering smoke and fumes quickly, safely and efficiently. The unit can be used in a vertical (standing up) position or low-profile position (laying down.) When used in the low-profile (laying down) position, efficiency and air flow is increased by approximately 2.6 times.
Unit is made of non-sloughing static dissipative conductive material and operates quietly
Standard activated carbon filter absorbs up to 80% of the odors from the air and is easy to replace
Can be used vertically (upright) or horizontally/low profile (laying down)
ESD-safe by design
NOTE:: An optional special high efficiency filter removes up to 90% of airborne particles — the exhaust air is actually cleaner than the room air!