| | | |
| --- | --- | --- |
| | Soldering Irons | |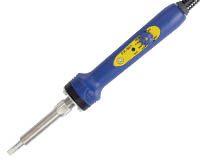 HAKKO FX-601 SOLDERING IRON
The Hakko FX-601 is the next generation of adjustable temp-controlled soldering irons from Hakko. This small, lightweight iron will outperform the most popular 100W soldering irons on the market today. Ideal for all your stained glass applications, from small decorative projects to windows.
Ceramic heating element for longer service life than normal conventional nichrome-iron (NiCr) element.
Adjustable electronic temperature control, no rheostat needed.
10 temperature settings between 464°-1004°.
Alloy-coated iron tips ensure long-lasting protection from corrosion.
Super Fast thermal recovery. Reheats in less than 10 seconds
Extremely Lightweight, well-balanced with a slender, ergonomic handle.
An excellent iron for large stained glass panels and lead came.
Energy efficient 67 watts (to understand wattage vs heating technology, click here)
Extra long, 3-wire 6 foot power cord.
120V only - no guarantee what will happen if used with a 220V converter. Hakko recommends a good quality voltage converter that outputs consistent voltage without spikes and noise if you must do so.
UL/CSA Approved
T19-D5 standard tip (~3/16") included.
Model 601-02
Hakko FX-601 Soldering Iron


| | | |
| --- | --- | --- |
| Replacement Chisel Tip for 601 2.4mm | Replacement Chisel Tip for 601 3.2mm | Replacement Chisel Tip for 601 5mm (~3/16") |
| Replacement Chisel Tip for 601 6.5mm (1/4") | Replacement Conical Tip for 601 | Replacement Sharp Conical Tip for 601 |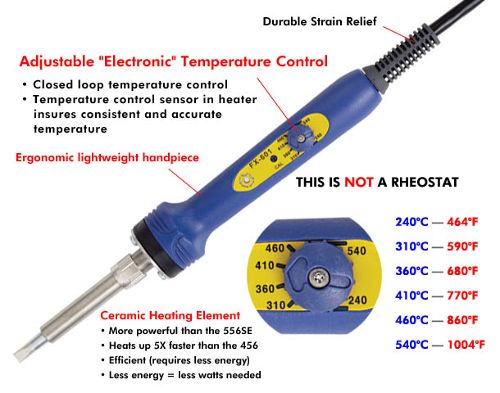 Note: The small, blue tool included is a temperature adjustment tool for electronic "process control" supervisors to set and lock the iron temperature so operators cannot accidentally or intentionally change the temperature of the iron. This is useful when soldering delicate or temperature sensitive electronic components.

This tool is not needed by stained glass artisans.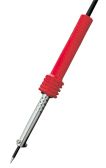 HAKKO 503 SOLDERING IRON
The Hakko 503 Red iron is an economical and lightweight 60W iron that is ideal for beginners, students and hobbyists working on their first stained glass project or that do small work like suncatchers and casting. Heating element is nichrome and can attain temperature over 900°. You get the power of a 100W iron, but use less energy!
| | |
| --- | --- |
| Hakko 503 Red Soldering Iron | Replacement Chisel Tip for 503 6mm x 85mm |

Hakko FX-601 Cap Kit
This protective cap for the HAKKO FX‐600 and FX‐601 Soldering Irons can be easily attached to your existing iron. Once installed, you simply unscrew the cap to expose the soldering iron tip for use. When you are finished soldering, unplug the soldering iron and screw the cap back on. The heat resistant plastic prevents the tip from contacting and melting other tools or power cords in your toolbox when you put it away. It also helps reduce the risk of injury from accidentally touching the soldering iron tip when it is cooling down after use.

NOTE: While the plastic is heat resistant, it is not intended to be used as a holder or installed while the soldering iron is on. Heat from the soldering iron will cause the cap to increase in temperature so use caution.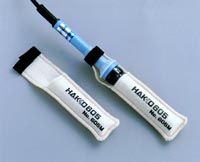 Hakko Portable Soldering Iron Cover (Hot Sock)

Ever finished using your iron outside your studio and needed to run somewhere but the iron was too hot to put away? This portable iron cover will allow you to slip the iron into the cover and put in your bag and go! Offers superior heat resistance and thermal insulation. Works with FX-601, but not the 503.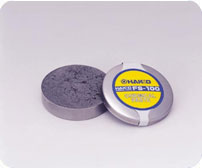 Hakko Soldering Iron Tip Cleaning Paste

The Hakko FS-100 paste re-tins and helps restore heavily oxidized soldering iron tips back to useful life. 100% lead-free. The flux does not contain Diammonium phosphate and does not leave a harmful residue.

For optimum performance, use in conjunction with the Hakko 599B tip cleaner. 10 grams.




Hakko Soldering Iron Mat

Keep your soldering area clean and tidy with Hakko's new soldering iron mat. It is a 16x24 rollable mat that is resistant to burns and solder blobs wipe off easily! You no longer need to look at a scorched, solder speckled table top anymore!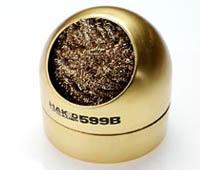 Hakko Soldering Iron Tip Cleaning Non Abrasive Brass Coil

Hakko 599B non-abrasive brass coils clean your soldering iron tip without water.

| | |
| --- | --- |
| Brass Coil with Holder | Refill Brass Coil for #599 or #633-01 stand |

Hakko Soldering Iron Stands
The holder is attached at approximately a 30-35 degree angle to reduce heat rising towards the handle, thus increasing the life of the iron.

The Hakko 633-01 is a solder iron holder with the 599B tip cleaner. It is compatible with FX-601, 455 and 456 irons. (Not 503)






The Hakko 633-02 is a solder iron holder with a sponge and tray. It is compatible with FX-601, 455 and 456 irons. (Not 503)





Replacement Sponge

Important Information about Irons
(1) Wire-wound heating elements work like your kitchen toaster -- electrical resistance heats up the wire. They are very INEFFICIENT (wastes energy) thus REQUIRING A LOT OF ENERGY (example, 100W) to heat up the whole heating element. Wire-wound heating elements are less expensive to manufacture, therefore the soldering iron's performance is equal to its price.
(2) Ceramic heating elements send electricity to just the area where the heat is needed (at the soldering iron tip.) Ceramic is VERY EFFICIENT and REQUIRES LESS ENERGY = LESS WATTS, PRODUCES MORE HEAT, maintains its heat longer, and its thermal recovery (the tip's ability to come back up to soldering temperature) is FASTER than a wire-wound heating elements. Ceramic heating elements are more complex heating mechanisms that cost more to manufacture, thus the soldering iron's performance is equal to its price.
The Hakko FX-601 (67W) is more efficient and heats up to more or equal to a 100W soldering iron that use a wire-wound heating element. Therefore, please do not equate a soldering iron's temperature and performance with its wattage without taking into consideration the soldering iron's heating technology.
Users Beware: An inexpensive soldering iron is probably using the inferior (wire-wound) heating element technology. So remember, it is true that you get what you pay for.