Create Fusing Designs by Squirting Frit with Vitrigel
Vitrigel Powder

Make your own squirt glass medium with Vitrigel and mix with powder glass frit. Use squeeze bottles or pastry applicators to create lines, or use tools to create custom textures and unusual shapes. It's quick and easy! 1 pound makes 20 quarts! Comes in a reusable jar with mixing instructions and creative uses. Sold in 1lb jars.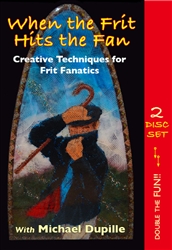 Embark on a creative journey with acclaimed glass artist Michael Dupille.
You will discover his latest techniques using frit in dynamic new ways.
He covers various processes in thorough, easy to understand language and video demonstrations.

This 2 disc DVD program covers 3 different projects: Working with Organic Shapes - Scratch 'N' Frit - Frit Sticks, Fritzels and Other Parts.

Also included: Simple casting using dams - Complete with Firing Schedules - and other Tech Tips!
Free Project Template

Michael Dupille is a pioneer and innovator in the kiln formed glass industry. He is credited with many of the working methods and processes considered as standards in the warm glass field today.