ZYP Boron Nitride Mold Release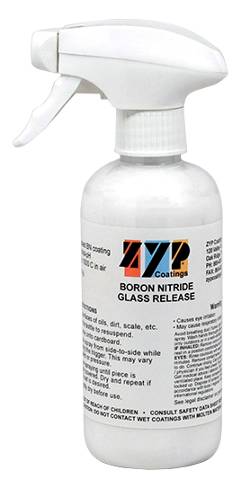 The artist helper formerly known as MR-97.
ZYP works wonderfully as a ceramic or stainless steel mold release. It's easy to use, simply spray on your slumping or casting mold at room temperature (wear a dust mask and spray outside only for safety). Easy spray-on formula provides a uniform slick coating to produce a flawlessly smooth and easily released project. This water-based paint will take longer to dry than solvent-based paint. Glass Release is a non-hazardous product, thus allowing much lower shipping/handling costs. Just like the aerosol, this new easy-to-use trigger sprayer allows application of boron nitride paint onto most any non-glazed (i.e., bisque) surface, substrate or mold.
12-ounce bottle will prime about 20 medium sized molds. You may need to touch up the areas where the glass touches the mold after 4 or 5 firings. It works best if you never fire it above 1350F or 730C.

Sold in 12 oz bottles. Note: This item can be shipped via USPS!