Gryphon Diamond Core Drill Bits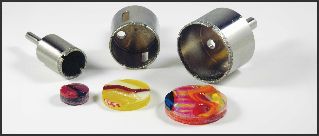 Core drill bits have a hollow center and cut a circle in the material to create a hole. This results in a hole the size of the drill and a smaller "plug" or "core" which comes from the center. Just add water for lubrication. All diamond core drills have shaft sizes of 3/8" (10 mm) or less, for use in most standard drills and drill presses.
IMPORTANT:
Diamond drill bits require the use of proper lubrication, correct drill speed and proper pressure.
Part #
Description
Sale Price
# 8360
1/8" (4mm) Diamond Core Bit
# 8361
1/4" (6mm) Diamond Core Bit
# 8362
1/2" (12mm) Diamond Core Bit
# 8364
3/4" (18mm) Diamond Core Bit
# 8365
1" (25mm) Diamond Core Bit
# 8366
1.25" (32mm) Diamond Core Bit
# 8367
1.5" (40mm) Diamond Core Bit
# 8368
2" (50mm) Diamond Core Bit