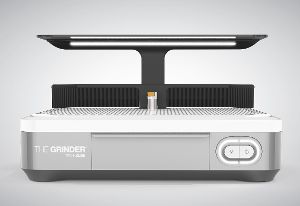 Techniglass' THE Grinder is a state of the art, technological breakthrough for glass grinders.
Now you can grind with style with this innovative machine.
Super-brite LED Light Strip
Lens-grade Eye Shield
Removable Water Tray
Guide Track for Tool Attachment
Accessory Drawer
EZ-View Windows

Stainless Steel Bit Guard
Quick-Fit Bit System Included
Silicone Splash Curtain
Lumishield Mount Cap
Aquaflow Brush System Included
| | |
| --- | --- |
| Accessory Drawer and Tray Insert - An exclusive, compartmentalized, and built-in drawer is a space saving way to store spare bits, included scraper, Aqua Flow System, replacement brushes, stainless steel bit guards, and other tools! | THE Grinder is equipped with a 5 ft. (1.5 m) durable and removable 3-prong cord which meets international standards and is 110V & 220V compatible. For international use, all you need to change is the power cord! Australian plugs are also available. |
Specifications:

Motor: Brushless DC
Voltage: 110-220 v; Dual voltage for international use
RPM: 4500 RPM
Torque: 57 oz/in (0.4 N/m)
Max Horsepower: 1/6 HP
50-60 HZ
Weight: Grinder and Accessories: 13 lbs/6 kg
Grinding Surface: 12" x 16" (30 x 40 cm)
Threaded, open-tip spindle for 1/4″ and 1/8″ jewelry bit attachments
Low profile


# 7800 THE Grinder
MSRP: $ 349.95


We also have some Australian and EU versions in stock. Just request them in the Special Instructions.

Techiniglass' THE Grinder comes with their patented Quick-Fit Bit System,
but will also accept standard grinding bits such as their Brilliant Bits.
Click here to see their Brilliant Bits.
Click here to see replacement Quick-Fit Bits.
Videos Setup and Care and Maintenance of THE Grinder