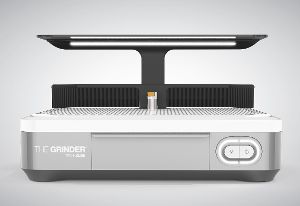 Techniglass' THE Grinder is a state of the art, technological breakthrough for glass grinders.
Now you can grind with style with this innovative machine.
Super-brite LED Light Strip
Lens-grade Eye Shield
Removable Water Tray
Guide Track for Tool Attachment
Accessory Drawer
EZ-View Windows

Stainless Steel Bit Guard
Quick-Fit Bit System Included
Silicone Splash Curtain
Lumishield Mount Cap
Aquaflow Brush System Included

Accessory Drawer and Tray Insert - An exclusive, compartmentalized, and built-in drawer is a space saving way to store spare bits, included scraper, Aqua Flow System, replacement brushes, stainless steel bit guards, and other tools!


THE Grinder is equipped with a 5 ft. (1.5 m) durable and removable 3-prong cord which meets international standards and is 110V & 220V compatible. For international use, all you need to change is the power cord! Australian plugs are also available.



The secondary platform with water reservoir can be effortlessly placed atop the main grid enabling use of 1/4″ and 1/8″ spindle top bits. Equipped with its own reservoir, the secondary platform has water ingeniously delivered to the grinding head for flawless execution.

Platform Dimensions: 1.3"H x 6"W x 5"D (33 x 153 x 127 cm)
Elevated surface outfitted with EZ-Lift Grid that can be removed for the addition of water or cleaning with specially-designed cutouts
Platform is self-sufficient with its own, separate water supply
The reservoir water level can be continuously monitored through the EZ-View Windows.
Specifications:

Motor: Brushless DC
Voltage: 110-220 v; Dual voltage for international use
RPM: 4500 RPM
Torque: 57 oz/in (0.4 N/m)
Max Horsepower: 1/6 HP
50-60 HZ
Weight: Grinder and Accessories: 13 lbs/6 kg
Grinding Surface: 12" x 16" (30 x 40 cm)
Threaded, open-tip spindle for 1/4″ and 1/8″ jewelry bit attachments
Low profile


# 7800 THE Grinder
MSRP: $ 349.95


We also have some Australian and EU versions in stock. Just request them in the Special Instructions.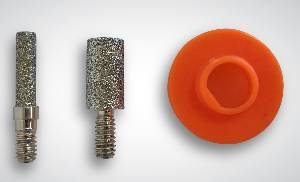 The MiniG is a set of 1/4" and 1/8" grinder heads for THE Grinder. Twists into the top of the shaft for easy installation.

Techiniglass' THE Grinder comes with their patented Quick-Fit Bit System,
but will also accept standard grinding bits such as their Brilliant Bits.
Click here to see their Brilliant Bits.
Click here to see replacement Quick-Fit Bits.
Videos Setup and Care and Maintenance of THE Grinder