Glass Grinders and Accessories

INLAND WIZLING CG GLASS GRINDER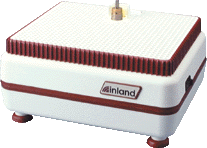 WizlingCG™ gives you features at an affordable price! Ideal for the beginner or as a back up grinder for the professional glass workers.
Key Features:
The most powerful grinder in its class.
Reversible work surface for twice the life!
Lift off reservoir is easy to remove for quick cleaning.
Comes with a ¾" grinding head. 2-way on/off switch.
Accepts Inland's wire frame face shield support for use with our FaceShield™ or MagnaShield™.
Works with many optional accessories and bits.
Five Year Full Confidence Warranty
Specifications:

Construction: Injection molded plastic.
Work surface: 9" x 10" open grid.
RPM / UPM (idle): 3500
Maximum Torque: 16 oz.-in.
Frequency:60Hz
Maximum Horse Power: 1/22 HP
Watts In: 97
Watts Out (at peak torque): 33
Thermal Protection

# 6000 Inland Wizling CG Grinder
MSRP: $ 129.95

$ 119.95
INLAND WIZ CG GLASS GRINDER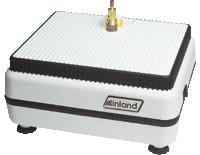 WizCG has more features for less money! The next step up in hobbyist grinders with a more powerful motor.
Key Features:
A powerful 30 oz.-in. torque motor that makes it the most powerful grinder in its class.
You get over 13 more square inches of work area and the work surface is reversible!
Lift off reservoir is easy to remove for quick cleaning.
WizCG™ comes with a ¾" and ¾" grinding bits, ¾" standard BitSert™, and 2-way on/off switch.
Accepts Inland's wire frame face shield support for use with our FaceShield™ or MagnaShield™.
Many optional accessories and bits work on the WizCG™.
Five Year Full Confidence Warranty
Specifications:

Construction: Injection molded plastic.
Size: 11" x 10" x 5.5"
RPM / UPM (idle): 3550
Maximum Torque: 30 oz.-in.
Frequency: 60Hz
Maximum Horse Power :1/11 HP
Watts In: 215
Watts Out (at peak torque) :55
Thermal Protection

# 6002 Inland Wiz CG Grinder MSRP: $ 164.95

$ 149.95
INLAND WIZARD IV GLASS GRINDER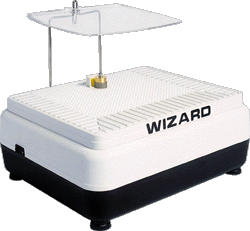 A Heavy-duty grinder for the professional that wants power and reliability.

Key Features:
Huge open grid work surface 14.5"x 11.5" (16% larger that closest competitor)
Long lasting, fast cutting 1" and ¼1/4" grinding bits.
LiftOff™ reservoir makes cleanup fast and easy.
Reversible work surface saves you money down the road.
Powerful 1/9 HP 3550 RPM motor
SecondStory™ Work Surface provides an elevated work surface for using the 1/4" bit
Face Shield with wire holder included
Accepts all Inland grinder accessories and over 40 grinding bits.
Convenient covered accessory tray for bits, wrenches, lubricant and other supplies is built into reservoir.
Five Year Full Confidence Warranty
Specifications:

Work Surface: 14 1/2" wide x 11 1/2" deep
Construction: High Impact ABS housing
Voltage: 115V
Maximum RPM: 3,550
Maximum Torque: 40 oz.-in.
Frequency: 60 Hz
Maximum Horse Power: 1/9 HP
Watts Out (Under Load): 183
Thermal Protection

# 6003-4 MSRP: $ 264.95 $ 249.95