Gryphon Zephyr Diamond Ring Saw Plus
Gryphon has upgraded the Zephyr Glass Ring Saw to the Zephyr Plus!



You get the Zephyr Ring Saw which includes a standard blade plus a Free additional standard blade and a Maintenance Kit!

$ 499.95 Value for Only $ 369.95
Shop and Compare, our price cannot be beat!

---
The Gryphon Zephyr Diamond Ring Saw is a must have for those hard to cut out glass pieces!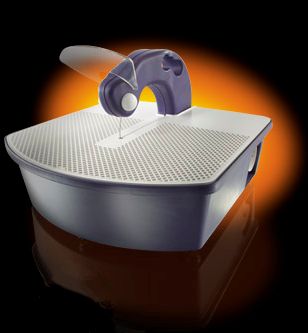 Because the round blade can cut in any direction, you can cut virtually any shape you can think of with much less wastage of glass than doing it by hand. The motor operation of the Zephyr is very smooth and quiet. (Zephyr means "quiet wind"!) The large work surface keeps your cutting area free of obstructions. The overhead blade support is slender, allowing the artist to have a very clear view of the material as it is cut. In addition, the Zephyr blade had a larger diameter so you get a deeper throat and a larger distance between the blade and the back of the arm for more clearance for the glass than other consumer glass saws.
Special attention has been given to designing the saw for quiet operation and for low maintenance. The critical moving parts are shielded to minimize the abuse from the glass dust that is generated when cutting. The highest quality bearings and wheels are used to extend the life of these critical parts.
The motor/blade assembly is a separate unit that can be removed from the base and used as a hand-held saw. This is useful for cutting items that cannot easily be brought to the table. A small water reservoir is built into the blade assembly housing and will hold enough water for a few minutes of hand-held cutting. When the saw is used in the normal configuration (installed in the base), the base will hold enough water for several hours of cutting.
The Gryphon Zephyr will cut glass, tile, rock and all other similar hard materials.
1 Standard Grit Ring Saw Blade is included.
For a limited time 1 Extra Standard Grit Ring Saw Blade is also included plus 3 Yellow Grommets. A $70 bonus!
This saw is a 120v machine. It is not guaranteed to work in countries with 220v even with a converter.
Due to previous customers having issues, we will not ship the Zephyr overseas. If it is sent to a
shipping forwarder and then sent overseas, we are not responsible for the operation of the machine.
Specifications: 3000 rpm - 1/3 hp - 18"x18"x11" Weight 19 lbs - Coolant: Recirculating Tap Water - 3 Year Warranty - Assembled in USA
Regular Price: $ 499.85

Markstay II - The Zephyr's Best Friend
Designed to preserve your mark on glass during cutting, sawing and grinding. Washes off with soap & warm water or glass & flux cleaners. Your mark will stay on the glass until you wash it off.
Zephyr Ring Saw Features
MUCH quieter operation
20% deeper throat (6 5/8" vs. 5 1/2")
2x height clearance (1 1/2" vs. 3/4")
Longer lasting bearings and wheels
When used as hand held, not necessary to attach separate housing cover
120V only - not guaranteed to work in 220v environment even with a converter
Gryphon Zephyr Replacement Parts
# 08516
Standard Diamond Replacement Blade
List: $ 59.95

# 08521
Fine Dichroic Blade - for delicate work, leaves very smooth edge
List: $ 59.95
# 08522
Separating Blade - enables making inside cuts without having a lead-in cut
List: $ 59.95
# 08514
Super Power Blade - Cuts faster, great for cutting through multiple layers like in fused glass.
List: $ 59.95
# 08305
Gryphon Dressing Stone
# 08517
48" Drive Belt
# 08518
Purple Idler Wheel with Bushings
# 08519
Set of 3 Rubber Inserts for Gold Drive Wheels
# 08520
Gold Guide Wheel with Bearing
# 08528
White Drive Wheel
# 08523
Replacement Face Shield
# 08524
Replacement Raceway Strips (top and bottom) with Super Glue
Watch a video of the Gryphon Zephyr Saw in Action!