Gryphon OMNI-2 Plus+ Diamond Wire Saw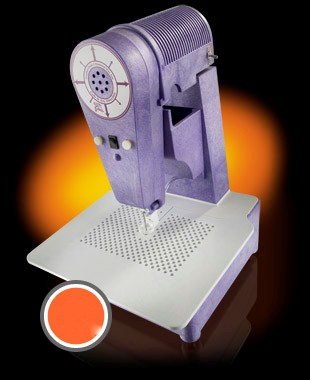 The new Omni-2 Plus+ provides a performance upgrade for the popular Omni series of diamond wire saws. The new saw offers faster cutting and longer blade life compared to the older Omni-2.
The Omni-2 Plus+ retains the popular features of the Omni-2 such as being able to cut in any direction, the built-in water pump, and near-maintenance-free operation.
As an added bonus, the Omni-2 Plus+ is shipped with a complement of six diamond blades, an extra set of blade guides and a spare chuck. It is unlikely that the operator of the Omni-2 Plus+ will need any additional parts or supplies for a very long time.
The Gryphon Omni saws use a very strong round steel wire blade that is coated all around with diamonds. The simple mechanism in the saw propels the blade up and down rapidly, enabling the operator to swiftly cut glass or other hard material. The simple design eliminates problems encountered in some other brands of saws that cause lost time, added maintenance expense and frustration.
The new Omni-2 Plus+ offers the best value today in glass cutting saws. You get a great saw for a low cost that now features much faster cutting, longer lasting blades, no expensive repair cost, is virtually maintenance free, and comes with 6 blades and all the extra accessories anyone would need.
This saw is a 120v machine. It is not guaranteed to work in countries with 220v even with a converter.
Due to previous customers having issues, we will not ship the Zephyr overseas. If it is sent to a
shipping forwarder and then sent overseas, we are not responsible for the operation of the machine.
Specifications: 5000 rpm - 1/4 hp - 19"x14"x13.5" Weight 18 lbs - Coolant: Recirculating Tap Water - 5 Year Warranty

Part #
Description
# 08440
Turbo Fine Blades 120 grit (Pack of 3)

The Fine blade cuts a little slower than the standard blade, but leaves a smoother edge. This blade is recommended for dichroic glass and similar fragile material.
# 08450
Turbo Standard Blades 100 grit (Pack of 3)

The Standard blade is the best choice for all-around use. If you haven't yet tried the Turbo blades in your Omni saw, you will be very pleasantly surprised by their performance.
# 08451
Turbo Super Power Blades 80 grit (Pack of 3)

The Super Power blade is the most aggressive and cuts very fast.
# 08449
Turbo Slitting Blades 100 grit (Pack of 3)

The Slitting blade is oval in cross-section, and cuts faster than the standard blade due to offering a slimmer exposure to the glass. This is designed for special applications where speed is the most important consideration or it is important to remove the minimum amount of material.
# 08438
Replacement Blade Guide Set (OG-2)

Set includes one upper and one lower blade guide.

# 08439
Replacement Chuck with Screw

The Chuck consists of the entire white plastic part that slides up and down on the two vertical shafts. Use your old wrist pin to attach the Chuck to the connecting rod.

# 08442
Replacement Pump

Pump is intended for replacement of original Omni-2 Pump. This pump is not recommended for the Omni-1. To remove the old pump, pull straight up.

# 08443
Replacement Rotor

The Rotor includes the ball bearing and wrist pin.

# 08305

Gryphon Dressing Stone

Markstay II - The Omni-2's Best Friend
Designed to preserve your mark on glass during cutting, sawing and grinding. Washes off with soap & warm water or glass & flux cleaners. Your mark will stay on the glass until you wash it off.