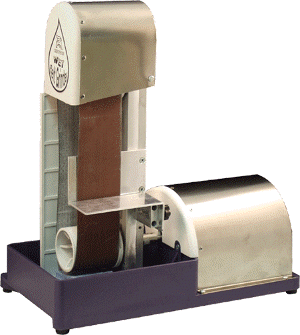 Gryphon Wet Belt Sander/Grinder
This Gryphon product provides an entirely new category of tool for the glass artist.

With a large grinding belt, offering a huge 90 square inches of grinding surface, you can now accurately grind straight lines or true up large curved surfaces quickly and easily. A small platform helps steady your work and tilts for easy beveling. A variety of belts are available from coarse for fast grinding to ultra smooth for polishing.
Features
High Speed DC Motor For Fast Grinding
Simple construction with few moving parts
Direct Drive - No Belts or Pulleys
Convenient water reservoir under the lower wheel
Uses a standard kitchen sponge to keep the belt wet
Ruggedly constructed of high-impact plastic, aluminum & steel
Comes with 3 belts (80, 120, & 400 Grit)
120V only
Specifications: 3500 rpm - 3"x 30" Belt - Adjustable for angles - 9.5"x7.5" Coolant reservoir -
Single Knob Tension Adjustment - Weight 16 lbs -
1 Year Warranty

80 Grit Belt (2-Pack)
Temp Out
400 Grit Belt (2-Pack)

120 Grit Belt (2-Pack)

80/120/400 Grit Belt (3-Pack)
Get 1 of each belt


Cork Polishing Belt (1)
(Great for polishing edges of cabochons)