Glass packs are an excellent way to get a sample of different styles and colors of glass for an affordable price!
Pictures are only a sample of the glass color. Your pack may contain different, yet just as pretty, colors! Also, due to the nature of how glass is made and the different variations in computer monitors, the actual color may vary when viewed in person!
Since UPS now prices shipping by the size of the box, it pays to get 2 or 3 glass pack to fill the box. Get the most bang for your shipping buck by not letting the box ship with room to spare. You can add glass from any part of this site.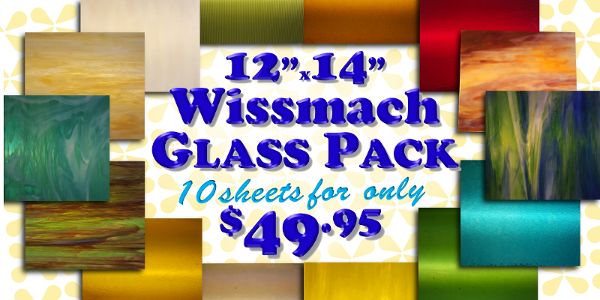 Get 10 12x14 pieces of various colors and textures of Wissmach Glass.
Only $4.95 for over a square foot of glass!
Glass in picture is an example of the glass we will pick for you - colors and shades will vary.

# WS-PACK-12 $ 59.95 $ 49.95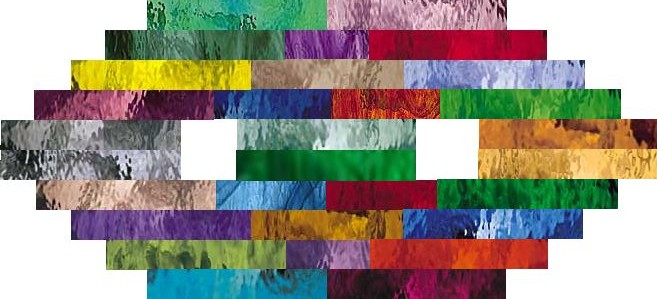 Getting in Tune to the Straight and Narrow!
After cutting up 100s of crates of glass for shipping, you tend to end up with some extra strips!
We sorted and packed up hundreds of these straight strips into these great glass packs that are perfect for boxes, or in beveled panels, or making any type Frank Lloyd Wright or Prairie design.
Each pack contains an assortment of straight strips approximately 2"x12" in size.

Straight Lines Clear with a Splash of Color
24 pieces - ~2"x12" Strips

An assortment of 13 textured clear strips with 11 colored strips which can include white, reds, yellows and blues. Perfect for making boxes, chimes, crosses, borders, or accent any stained glass panel.

Straight Lines Red/White/Blue Pack
24 pieces - ~2"x12" Strips

An assortment of 20 strips containing cathedral, opals and wispys of reds, whites, and blue glass. This pack is great for patriotic suncatchers.

Straight Lines Variety Pack
24 pieces - ~2"x12" Strips

An assortment of 24 strips containing cathedral colors, opals and wispys. This pack is great for boxes, borders, mosaics or for having a lot of small pieces of various colors of glass for that time when you just need a small piece of something.

Straight Lines Waterglass Pack
24 pieces - ~2"x12" Strips

An assortment of 24 strips containing all strips of Spectrum Waterglass. This pack is great for abstracts, borders, and boxes.
Fusible Glass Packs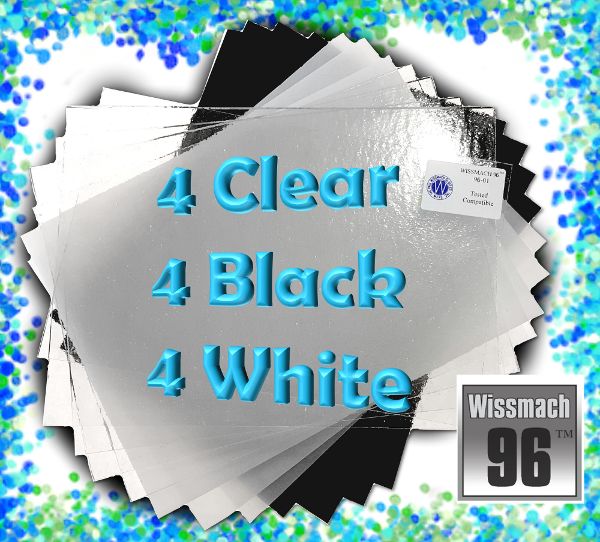 Wissmach 96 Fusible Glass Pack
12 pc. 8"x12"

If you are a beginner Fuser - this pack is an excellent way to get your feet wet.
Fusing is a lot of trial and error.
Why not try your first efforts on glass that is not expensive?

12 8"x12" of fusible Wissmach 96 Glass. When you are fusing, you always need Black, White and Clears! It is 100% COE 96 compatible and a great way to stock up on basic fusing colors. No Box charge for this glass pack.